OVERVIEW of The Planter's Inn
The Planter's Inn, with 56 rooms and 6 suites, is a delightful haven and ideally located in the center of the historic district. This Relais & Chateau property boasts exquisite rooms and a world class restaurant.
THE ROOMS at The Planter's Inn
Over $22,000 has been spent decorating each room with original art, mattresses made specially by a local family who has been making them since the 1800's, bed canopies made in the Carolina's, custom made carpeting from England and more.
On my last visit, I stayed in one of the new Penthouse Kings (#402) and it was one of the most luxurious and comfortable I have ever enjoyed. Particularly spacious with 20ft ceilings, it had a hand carved 4 poster bed, luxury linens, soft beige walls with sparkling off-white moldings, a fireplace, a sitting area, a terrace overlooking the City with table and chairs, a large marble bath with a huge soaking tub and separate glass enclosed shower.
DINING at The Planter's Inn
Speaking of dinner, the Inn's restaurant, the Peninsula Grill, is one of our Hall of Fame selections (see our dining reviews) and is a must for your trip to Charleston.
THE SERVICE at The Planter's Inn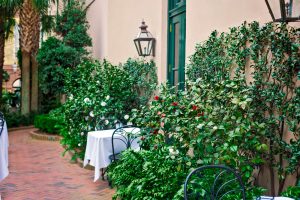 Now that would be enough for most places, but it is the attention to detail that separates the men from the boys, as they say. Things like double glazed and laminated windows to keep out the noise and glare, heavy lined draperies to allow you to sleep in undisturbed by the morning sun, door "sweeps" to keep out the noise and light from the hallways, a sound machine to lull you to sleep, vases of fresh flowers, a silver soap dish, dimming light sconces in the bathroom and a small bottle of cognac at turndown. The temptation to never leave your room is overwhelming..shall we have dinner sent up and eat around the fire or on the terrace?
RATES at The Planter's Inn
From $619 Peak Season Weekend
WHAT OTHERS SAY About The Planter's Inn
AAA Four Diamond Award
Relais & Chateau property
"Ideally located in the heart of old Charleston, this intimate Relais & Chateau boutique provides a "memorable experience" thanks to its beautiful rooms with fireplaces and tasteful furnishings, service that exudes "Southern Charm" and most of all "top notch" (but expensive) dining from "one of the best restaurants in town"; despite otherwise "limited facilities", this "quiet, Lovely spots leaves some guests feeling like they had been "transported to another time or planet." ZAGAT
PROMOTIONS at The Planter's Inn
Click here for this property's promotions.