OVERVIEW of Penn's View
Penn's View is conveniently located at Front and Market Streets in Old City, walking distance to
many attractions, restaurants and bars. The small lobby evokes memories of small European hotels….lots of marble and interesting murals. This charming little boutique hotel is a great value for a major city. Rates are often in the $150-$250 range.
THE ROOMS at Penn's View
There are 49 rooms and 2 suites in the hotel. Rooms are tastefully furnished, some with exposed brick walls, many with fireplaces, jacuzzis and river views. Our room had hardwood floors, Oriental carpets, heavy floral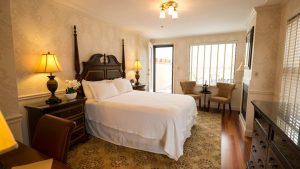 draperies, rich dark wood furniture and a well sized marble bath. The hotel offers complimentary WiFi, daily breakfast and newspapers.
DINING at Penn's View
The hotel has a wonderful wine bar, the Panorama Wine Bar, that features 120 wines by the glass and delicious Italian food. It also serves a great the complimentary "continental" breakfast takes that staple to a new level with waffles and soft boiled eggs in addition to the usual fare.
THE RATES at Penn's View
From $204 Peak Season Weekend. Great value.
WHAT OTHERS SAY About Penn's View
"For those wishing to avoid the corporate giants", this "quaint" "charmer" with a "European feel is a "welcoming place" in an "awesome location"; start with a flight at its "really good wine bar", then "spend the evening enjoying Old City and the nightclubs on Market Street" before retiring to a "wonderful little room" or Jacuzzi-and-fireplace-appointed suite, all of which are serviced by a "helpful, attentive staff." ZAGAT
PROMOTIONS at Penn's View
Click here for this property's promotions.