OVERVIEW of Newport Beach Hotel & Suites
The Newport Hotel and Suites is one of the best values I have seen in a long time. Ideally located across the street from the Easton Beach, minutes from the Cliff Walk and next to the Newport Pond, the hotel is the perfect choice for couples traveling together and even better for families.
THE ROOMS at Newport Beach Hotel & Suites
The historic part of the hotel has been upgraded and redecorated and the rooms, while somewhat small (250-350sq. ft.), are comfortable and well appointed. Our room had custom furniture with wood inlays and granite tops, a pleasing turquoise, white and gray color palette, a
wonderful queen bed with luxury linens and pillows, a 37 in. flat screen TV, DVD player, refrigerator, microwave and coffee maker and complimentary wireless. The bathroom, which was almost as large as the room, was finished in Carerra marble with custom cabinetry, had luxury toiletries and plush towels.
It is, however, the suites building, that make this property a stand-out. With views of the beach and/or pond, the suites range in size from 500 sq. feet to 1300, have floor to ceiling windows, a full kitchen with washer and dryer and a deep soaking whirlpool tub and a pull-out couch. The two bedroom has two king beds and two full baths.
OTHER at Newport Beach Hotel & Suites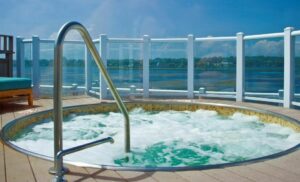 There's an indoor pool with a cascading waterfall, a full fitness center, a rooftop hot tub and fire pit.
THE RATES at Newport Beach Hotel & Suites
From $386 Peak Season Weekend
The rates for this property are truly remarkable. We stayed in a Historic Building room in September, still considered "the season" for only $129. We planned a trip for a friend and his family for the Thanksgiving weekend and a 2 bedroom suite in the new building was only $179.
PROMOTIONS at Newport Beach Hotel & Suites
Click here for this property's promotions