OVERVIEW of Mirbeau Inn
The name "Mirbeau", which may be loosely translated as "reflected beauty," is inspired, in part, by the soft light and warm colors of Monet's paintings. Set on 12 acres just blocks from the lake, Mirbeau was designed to evoke the warmth and comfort of a French wine country estate. The chateau-like Inn and Spa building and four freestanding cottages curve gracefully around the beautiful French impressionist gardens and ponds creating a Monet landscape. In fact, the gardens are patterned after Monet's own famous gardens at Savor, near Paris.
It is a glorious and tranquil setting that can be enjoyed both from your room and from the dining room and outside terrace.
THE ROOMS at Mirbeau Inn
There are 18 rooms in the main building and the remaining 16 are housed in four cottages. These are wonderful accommodations…so comfortable and cozy. All rooms have fireplaces surrounded by club chairs, ideal for curling up with a book. Decorated in soothing golds and
blues, the rooms are generous in size and equipped with super luxurious beds, made especially for Mirbeau….you'll feel like you are sleeping on a cloud. Bathrooms are huge with a tiled walk-in shower (and great water pressure), claw foot soaking tubs (anything better?) and double sinks.There's a flat screen TV, DVD player, Bose stereo system and complimentary Internet connection and coffee service.
Be sure to get a room overlooking the pond but don't bother with the extra charge for a first floor with a patio. They are not private patios.
DINING at Mirbeau Inn
You can't talk about the restaurant without first discussing The Wine Bar. It's a wonderfully cozy spot that includes its own fireplace and surrounding seating and a wonderful selection of wines, many from the Finger Lakes region.
The very unique Wine Station allows guests to browse and sample a variety of wines from around the world in three different pours – taste, half, or full – allowing patrons to samples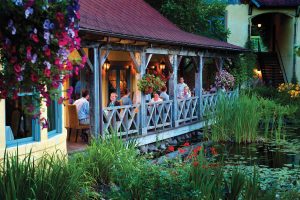 wines from all price points from $2.50 per taste to $70.00 per glass. Selections may include top local Finger Lakes Wines, Opus One and Caymus from California, along with a wide variety of European Wines.
The Bistro & Wine Bar serves all meals in an elegant country dining room with its crisp linens, gleaming tableware, fresh flowers and stunning artwork. For a particularly intimate and romantic evening, ask to sit outside on the terrace overlooking the pond. The restaurant showcases local Finger Lakes produce, meats, cheeses and other farm fresh products and offers in-house dry-aged beef, fresh seafood flown in daily and house-made breads and desserts from Mirbeau's own bakery.
Breakfast features items like Mascarpone French Toast, house-made brioche, brown sugar cinnamon mascarpone filling, mixed berry coulis and Mirbeau Cristo, house-made brioche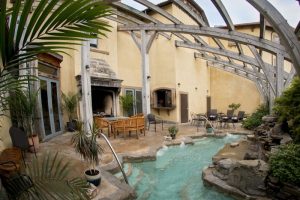 dipped in royal batter, gruyère, ham, scrambled eggs, whole grain mustard aioli. Dinner might start with cheese and charcuterie or French Onion Soup or perhaps Lamb Lollipops, with smoked tomato jam & goat cheese crostini. Entrees might include Goat Cheese and Herb Chicken, goat cheese & herb stuffing, artichokes, wild rice, pan jus or Steak Frites, 10oz handcut sirloin, with caramelized shallot butter, truffle fries. pair your courses from an excellent wine list, fairly priced.
THE SERVICE at Mirbeau Inn
From reception to dining staff to spa staff, everyone was pleasant and friendly and it felt genuine, not "forced" as it is in some places. Everyone seemed well-trained and appeared to truly enjoy their jobs. The bartender was particularly knowledgeable about their wine selection and guided me through a number of tastings that were outstanding.
THE RATES at Mirbeau Inn
From $450 Peak Season Weekend. Includes a European style Continental breakfast.
WHAT OTHERS SAY About Mirbeau Inn
AAA Four Diamond Award
Forbes Four Star Award
Condé Nast Traveler- Top 100 Spas in North America
"Quelle surprise to find this "Monet inspired" "bit of French countryside in upstate NY" near the "beautiful" Skaneateles Lake; love birds chirp the "charming rooms with fireplaces", "a staff that can't do enough for you" and "excellent food" at the restaurant are perfect for a "cozy, romantic getaway", and pamper-holics praise the on-site spa – "one of the best in the country." ZAGAT
PROMOTIONS at Mirbeau Inn
Click here for this property's promotions.