OVERVIEW of The Manor on Golden Pond
Like many, the movie, "On Golden Pond" is one of my favorites and this is where it was filmed.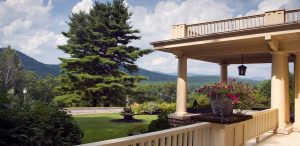 The area is as beautiful as you remember it from the film. A boat tour will allow you to revisit the settings for many of the scenes; the boathouse, Purgatory Cove and the lakeside home.
The Manor on Golden Pond is a gorgeous inn and the perfect place to enjoy this idyllic part of New Hampshire. Set atop Shepard Hill with sweeping lake vistas, the mansion was originally built as a private home by a wealthy Englishman for his debutante wife. It was completed in 1907 and quickly became a showcase and the setting for many elaborate parties. The current owners purchased the property in 1999 and have spent the 10 years restoring and upgrading the property to its current splendor.
The public rooms have retained much of their original charm with hardwood floors, wood paneling, beamed ceilings, lead paned windows and marble fireplaces with carved wood mantles. The living room and library are furnished in antiques and somewhat formal furniture, yet they manage to be warm and cozy at the same time.
THE ROOMS at The Manor on Golden Pond
There are 24 rooms and suites in 3 buildings and a cottage on the property, all decorated with different colors and styles. The smallest are the Classic Rooms, but even they are charming, very ample in size and perfectly acceptable if budget is a consideration. The preferred rooms are the ones with mountain and lake views, in particular Windsor and Churchill. Churchill is decorated in wonderful shades of blue, has a fireplace and sitting area, a semi-private deck and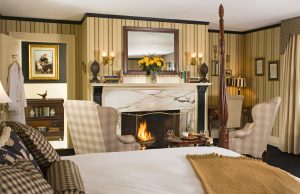 a Jacuzzi. My room, the Stratford, was delightful with pine walls, a king 4 poster bed, comfortable reading chairs around a wood burning fireplace and decorated with wonderful antiques. The color scheme was burgundy with plaid curtains and bed canopy offset with flowered bed sham and gingham chair fabrics. The view of the lake and mountains from my windows and private porch were spectacular. When I awoke the morning of my stay it was raining and foggy. I made some coffee, lit a fire and read the paper by the fire. The dreary day didn't seem so bad after that.
The bathroom, while small, was nicely decorated in a country motif with plaid wallpaper and a flowered curtain that framed both the window and shower. Plush, oversized towels, L'Occitane toiletries and contemporary Kohler fixtures rounded out the amenities.
Rooms are equipped with wireless, bottled water, coffee and tea and a small refrigerator.
DINING at The Manor on Golden Pond
Dark wood, subdued lighting and small copper tables create an intimate feel at the Three Cocks Pub. M Supper Club is a monthly  5 course dinner with wine pairing options during the season with a farm to table theme.
The elegant Van Horn Dining Room has beamed ceilings, wood paneling, a fireplace surrounded with hunter green tile and a carved mantle, lead paned windows and tables set with crisp linens and sparkling tableware brings to mind an English country manor. With the sun fading over the lake and mountains, candles flicker in shaded lamps and create a warm and romantic ambiance.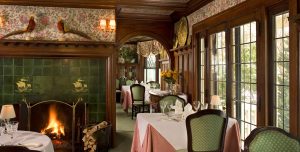 The menu changes often but here are some recent highlights and their suggested wine pairings: Lobster "Roll" Butter Poached Lobster with Crispy Wonton , Arugula and Mignonette
Mezzacorona Pinot Grigio, 2015; Crispy Pork Belly, Braised Beans, Mustart Barbeque, Pickled Chateau Souverain Chardonnay, 2013;  Summer Chicken, Crispy Fried Statler Chicken Breast with  Potato Puree, Pickled Green Beans, Vichyssoise Sauce, Mezzacorona Pinot Grigio, 2015; Smoked Local Pork. Locally Sourced Tenderloin, Herb Rubbed, Savory Bread Pudding, Blistered Heirloom Tomatoes, Bacon-Onion Jam, Decoy Cabernet Sauvignon, 2015; Lamb Shoulder.
Bourbon Braised Shoulder of Lamb, Herb Mousseline, Roasted Carrots, Patatas Bravas, Lamb Jus, Decoy Cabernet Sauvignon, 2015
Wine Spectator award winning wine list concentrating on California and France and very reasonably priced.
Breakfast, which is served from 7:30am in season and 8:30am in the off season had some wonderful choices like pear and pomegranate pancakes and banana pecan French toast. I opted for an egg crostini, an open faced sandwich of egg and bacon on multigrain toast with tomato, spinach and Asiago cheese and served with delicious home fries dusted with cumin. Great start to the day.
THE SERVICE at The Manor on Golden Pond
Apart from a friendly and attentive staff, these are innkeepers who have taken the time to think about what you may need or want during your visit and things that will just make your experience here better. A welcome letter greeted me upon arrival with a card reminding me of the time of my dinner reservation. There is a basket in the hallway with items you may have forgotten to bring, a night light and sewing cushion in the bathroom, a throw blanket on one of the reading chairs, turndown service that leaves fresh cookies on your pillow, a weather forecast and newspapers in the living room each morning at 7:30am, fresh lemonade and iced tea all day on a sideboard, afternoon tea, umbrellas at the doors and a basket of reading glasses in the Pub. To enhance the "Golden Pond" experience, they even pipe in the soundtrack of the movie complete with loons calling on the lake!
THE RATES at The Manor on Golden Pond
From $257 Peak Season Weekend
WHAT OTHERS SAY About The Manor on Golden Pond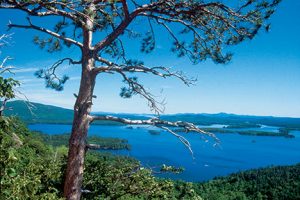 AAA Four Diamond Award
Andrew Harper's Hideaway Report, one of the "Best of New England"Member Small Luxury Hotels of the WorldWine Spectator Award Winning List
"If "you want to get away" from it all, you can "switch off" at this Central New Hampshire "country inn on steroids" that fans call "the best on Squam Lake" (featured in the film On Golden Pond); a member of Small Luxury Hotels of the World, this "winner" offers rooms with fireplaces, Jacuzzis and luxury bath amenities (some have private decks and water views), as well as an outdoor pool, gourmet breakfasts, fine dining, afternoon high tea and a private beach with canoes and paddleboats." ZAGAT
PROMOTIONS at The Manor on Golden Pond
Click here for this property's promotions.