OVERVIEW of Pebble Beach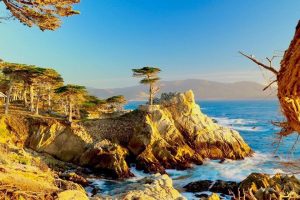 Set high above the crashing waves, overlooking Carmel Bay, Pebble Beach Resorts is world renowned for its golf courses which host the annual AT&T Pro-Am PGA event and has been host to 5 U.S. Open tournaments. Golfers the world over are familiar with this amazing setting.
Playing these courses is a golfer's Nirvana and something every duffer should experience. But the breathtaking scenery, excellent food and non-golf activities make it a worthwhile trip even if you have never picked up a stick. Just sitting in one of the fireplace rooms overlooking the Bay….with a good book and visions of delicious meals ahead is worth the visit alone.
Conde Nast Traveler ranks The Lodge #4 in its Top 50 U.S. Resorts and Travel & Leisure names the Lodge to its World's Best Hotels list. Forbes Four Star and AAA Four Diamond award recipient. Ranked #3 of Golf Digest Top 75 U.S. Golf Resorts.
THE ROOMS at Pebble Beach
Rooms are spacious and wonderfully appointed. A plump couch and chair surrounds a wood burning fireplace. The style is California Mission with iron headboards and lamps, light oak furniture and soothing colors of beige, yellow, brown and gray. Walls feature colorful California art and the large bathrooms are decorated in a kind of rose colored marble. There are 5 categories of rooms, plus suites with varying views and amenities. Garden View rooms are the lowest priced category. They feature a wood burning fireplace and either a patio or a balcony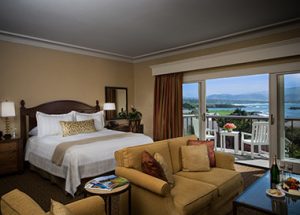 overlooking the private gardens or the first fairway. But it is really the Ocean View rooms that make this a very special place. With panoramic views of the 18th fairway and Stillwater Cove, a wood burning fireplace and a patio or balcony, these rooms are nothing short of spectacular.
Rooms 125-131 have the best direct views of the bay, but have no balconies. Room 197 is the most requested room, it's where Kevin Costner stays during the Tournament. It's a separate building by itself, has a direct view of the bay and has its own spa. If you want an ocean view room, ask for a room in the left wing (as you face the entrance), they have direct views and balconies.
DINING at Pebble Beach
Stillwater Bar & Grill
Stillwater highlights local and regional seafood in a setting with magnificent views of Carmel Bay and the 18th green. Lively and fun place. Wonderful seafood bar. Start with some fresh shellfish and have the duo of Ahi & Hamachi Tuna Sashimi and maybe some Dungeness Crab Cakes with Daikon pickles and whole grain mustard miso. I never miss the delicious Monterey Bay red abalone or the pan roasted Pacific pink snapper. Serving Breakfast, Lunch, Dinner and an extensive Sunday Brunch
The Tap Room


Great, cozy, masculine pub with wonderful collection of Pebble Beach memorabilia. Perfect for an after golf drink or a dinner of prime steaks or delicious comfort food. Popcorn shrimp, prime rib chili, steaks, chops, short ribs and meatloaf. So good…. An outstanding selection of draft and bottled beers and televised sporting events also make this a perfect stop on a rainy day. Lunch, Dinner and Late-Night Supper
The Gallery Cafe
Overlooking the first tee and the putting green, this bright and airy café is the spot for an early breakfast. They open at 6:30am and serve just about anything you might want, including freshly squeezed OJ, smoothies and great specialty coffees. Eat inside or on the outside balcony. Serves Breakfast and Lunch
The Bench
Glass enclosed conservatory, overlooking the 18th green with an eclectic menu of wood roasted specialties.
Peppoli at Pebble Beach
At the Inn at Spanish Bay, this cozy Italian features authentic Tuscan specialties with the largest selection of Antinori wines outside of Italy. Dinner only.
Roy's at Pebble Beach
Also at Spanish Bay. James Beard winner Roy Yamaguchi presents his acclaimed Hawaiian fusion cuisine in a casual and fun setting. Breakfast, lunch and dinner.
THE RATES at Pebble Beach
From $1100 year round
WHAT OTHERS SAY About Pebble Beach
"A golfer's dream", this legendary lodge two hours from San Francisco is "absolutely out of this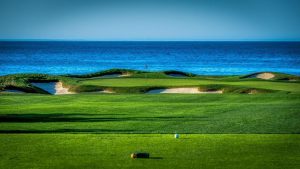 world" and "sets the standard for others"; from the "fantastic, flawless" rooms and "stunning setting" to the 'luxurious" service, "exceptional dining" and "lovely spa", it's not just for duffers " but if you do play and have "buckets of money", 'why would you stay anywhere else?" ZAGAT
PROMOTIONS at Pebble Beach
Click here for this property's promotions.