OVERVIEW of Inn at Little Washington
In the late 70's Reinhardt Lynch and Patrick O'Connell had a successful catering business but dreamed of creating the perfect inn and restaurant. They found an old gas station in the sleepy little village of Washington, Virginia nestled between the Blue Ridge Mountains and the Shenandoah Valley and began the transformation. In no time the Inn at Little Washington began to win accolades from both guests and the media. The Inn was the first of its kind to receive the prestigious Forbes Five Star and AAA Five Diamond Awards for both accommodations and dining.
Take the imagination of a London stage and set designer, overlay a striking collection of art and
antiques and combine rich fabrics, tapestries and wall coverings and you begin to envision the look and feel of the Inn. With fourteen rooms and suites, all decorated with a different mood,the Inn is what one would imagine a private English country home to be like. The public rooms are opulently decorated, yet warm and comfortable. Wander around and you will encounter small sitting areas with comfortable couches and reading material.
THE ROOMS at Inn at Little Washington
Every amenity imaginable is provided in the rooms; feather beds, Frette linens and bathrobes, heated towel racks, fresh flowers, exquisite bath products and a great shower. All the rooms are beautiful, but a Superior Room has a king bed and a balcony overlooking the patio. A Junior Suite adds a Jacuzzi and a fireplace.
If you really want to shoot the moon, ask for the Mayor's House which is located just across the street in a private setting all its own. This is a magnificent retreat and one you will savor for quite some time. The bedroom features a king bed and fireplace. The large marble bathroom has a Jacuzzi and separate shower. There is a separate sitting room with its own fireplace and a courtyard deck and garden.
DINING at Inn at Little Washington
The dining room is sexy and romantic, awash in deep colors of hunter green, burgundy, brown and gold. Rose colored silk lampshades hang above each table creating an intimate and private setting. Having read all the accolades for this restaurant, there is a sense of anticipation in the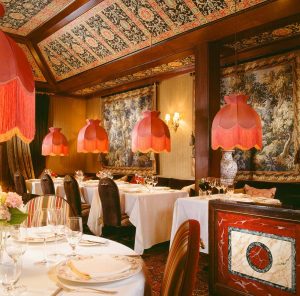 air, of something special to come. And it does not disappoint for one second.
Just reading the menu fills your imagination with the varied flavors and textures; Salty Virginia country ham, sweet D'Anjou pear, peppery baby arugula and tart parmigiano-reggiano to name just one. I started with an herb crusted baby lamb that was sliced carpaccio style and served with tabouli and rosemary mustard, a perfect example of O'Connell s creative take of a restaurant standard. Jen had freshwater prawns over charred Vidalia onions with a mango mint salsa. Great flavors.
As we finished our first course, we were served a chilled vichyssoise with fresh sorrel in a small demi-tasse cup. The sorrel added a wonderful pungency to the potato and leek soup. Sadly, I have tried to duplicate these wonderful flavors, unsuccessfully so far.
For the second course, Jen chose the fricassee of Maine lobster with potato gnocchi and curried walnuts. Who would think to marry curried walnuts with flour dusted and sauté chunks of lobster? I like the combination of poultry and fruit and the marinated pan seared squab on garlic polenta with a fresh blackberry sauce was a perfect choice for my second course. For the main event I had a duet of veal; pan roasted loin of veal and braised veal cheek with raviolis of Virginia country ham, asparagus and forest mushrooms. I love the use of the salty Virginia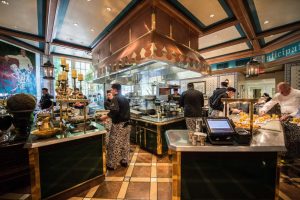 country ham with the mild veal flavors. Jen had prime tenderloin of Angus beef on red wine risotto with morels and baby white asparagus. Cooked perfectly and the risotto was rich and wonderfully seasoned.
Even I, who seldom eats dessert, couldn t resist the temptation, on this day. We started with "Seven Deadly Sins", a sampling of the Inn s most decadent desserts; chocolate cakes, flans, tarts, homemade ice cream and sorbet. Next we tried the southern butter pecan ice cream sandwich with hot caramel sauce and ended with a selection of imported cheeses. Wow!
Listen to how Patrick O'Connell views his "restaurant", "Ever since we opened The Inn at Little Washington in 1978 we've never really thought of it as a restaurant ¬ just a hideaway in the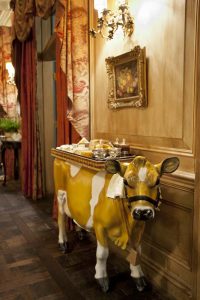 country owned by two people who like to entertain a lot. For over 26 years it has felt as if we've been hosting one continuous house party. A successful party, like a great film or work of art, elevates the spirit, makes people feel life is worth living and enhances a guest's self esteem."
The restaurant has an extensive wine cellar of nearly 14,000 bottles and includes selections from California and France, of course, but also Italy, Spain, Portugal, Australia and local wines from Virginia. There are a couple dozen choices by the glass and nearly three dozen 1/2 bottles, which I think is a wonderful idea as it allows for two wine choices for different courses.
Reservations are very difficult to get, particularly for Friday and Saturday nights. You must book months in advance. Even on the Monday evening we were there, the restaurant was full.
THE SERVICE at Inn at Little Washington
As we drove up to the Inn, a young woman was standing on the porch to greet us. We found out later that the staff rotates this function in two hour shifts, during the time guests are arriving.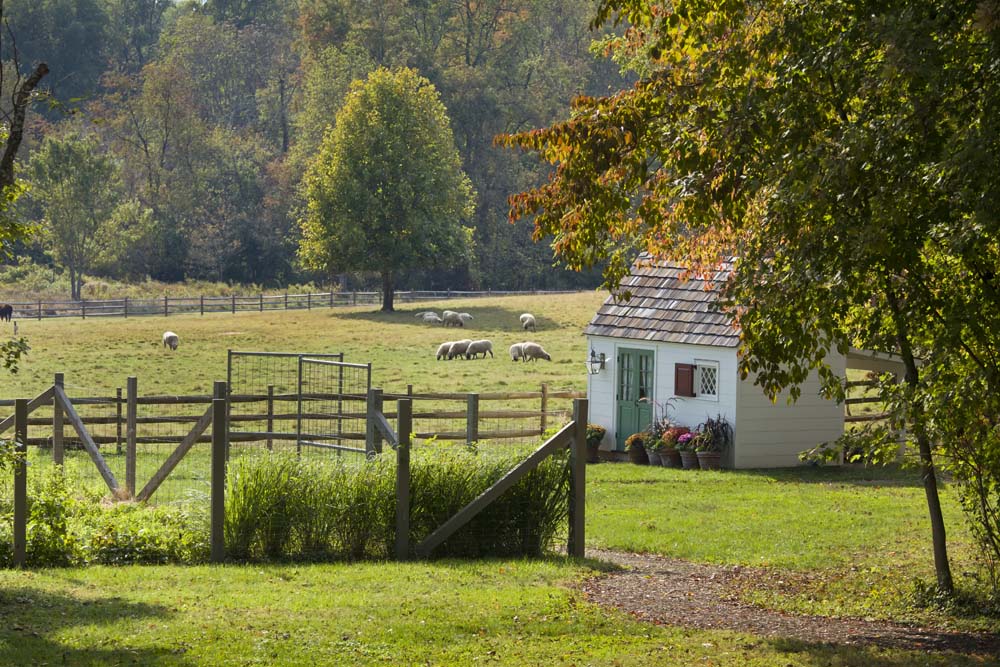 My car door was opened by another staffer who assured us he would take care of the luggage and car. As we entered the Inn, yet another staffer, welcomed us, told us no paperwork was necessary and invited us on a tour of the Inn. He showed us the public rooms and garden patio, presented us with a complimentary "welcome cocktail" of champagne and passion fruit and escorted us to our room. He asked us if we needed anything pressed for dinner, which we did, and he promised its return shortly.
Since we had a few hours until dinner, we took a short stroll around the little town. When we returned, tea was being served on the patio. Our server addressed us by name (how did she know who we were?) served us some delicious homemade morsels and we enjoyed a leisurely glass of wine.
When we came down for dinner, the hostess asked to pin a small carnation to my lapel, "tradition", she said, but I suspect it was to identify us as Inn guests to the dining staff. She also asked to hold our room key for us, a subtle way of insuring who we were without asking.
Our dining experience is reviewed later, but after dinner and a drink on the lovely patio, we returned to our room, which had been completely refreshed; new towels, new soap, new bathrobes and our bed turned down. On a nightstand was a small decanter of port with two glasses and two "doggy" biscuits with a goodnight note from Jobe, one of the Inn's Dalmatians.
We slept deeply on a luxurious featherbed and after a delightful breakfast in our room, checked out and headed for DC. About 10 minutes from the Inn, a car pulled up alongside us and we recognized the driver as Andres from the Inn. He motioned us over to the side of the road. It seemed we had forgotten something and rather than simply mailing it to us, he had hopped into his car and set out after us in hot pursuit. Wow, does anyone else "get" this kind of personal service?
This is an incredibly well trained staff, all of whom are intent on making sure that you are enjoying yourself. They are warm and gracious and really seem to enjoy what they are doing. Interesting too is that there seems to be no real division of labor, everyone does everything; carry luggage, park cars, wait on tables; bring you a lap top and press your clothes. You'll never hear, "that's not my job" at this place. One last note. We do not identify ourselves in our travels, so the experience we enjoyed at the Inn is the same one you will enjoy.
WHAT OTHERS SAY About Inn at Little Washington
From the "truffle popcorn to the last lick of the sorbet sampler", there's "brilliance in every bite" at Patrick O Connell's "magical" New American in the Virginia countryside; once again, its "drop-dead gorgeous" setting and "irreproachable" staffers who strive for "perfection in every detail" bring it the No. 1 rating for Decor and Service in the DC Survey " no surprise to those who happily dip into their "life's savings" to "savor" this "exquisite experience"; P.S. "stay the night to keep the fairy tale going." ZAGAT
WHAT OTHERS SAY…
AAA Five Diamond Award – Lodging
AAA Five Diamond Award – Dining
Forbes Five Star Award – Lodging
Forbes Five Star Award – Dining
3 Michelin Stars
Member Relais & Chateau
Wine Spectator Grand Award winner
"About as close to heaven as you can get while alive" gush gourmands who swear you "won't find a better meal" than at this "unbelievable" on-site Relais Gourmand restaurant at this "fabulous" inn 90 minutes from the Capital; almost everything is "beyond perfection"- from the "over the top decor" to service that "consistently anticipates and fulfills your needs" to the uniquely furnished rooms" – so "sell your first born" if you have to and "be prepared for a shock when you get the bill". ZAGAT
5 James Beard Awards
#1 Food/Décor/Service Zagat Washington DC
The Inn's dining room has been rated #1 in North America, and #2 in
the World, by Travel + Leisure Magazine's "World's Best Awards."
THE RATES at Inn at Little Washington
From $787 Peak Season Weekend