OVERVIEW of Inn at Leola Village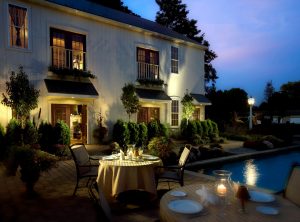 Set in the heart of Amish country in Lancaster, PA, the Inn at Leola Village is a female owned and operated historic property. The original buildings date back to 1867 and served as farmhouses, a tobacco farm and a carriage house. This is a wonderful weekend destination where you can enjoy the charm of the Amish country, feast on five star dining and relax in luxurious accommodations.
THE ROOMS at Inn at Leola Village
There are 62 rooms spread over a number of buildings and no two are the same. All rooms
have a flat screen TV, luxury bedding and Keurig coffeemakers. Additionally, most rooms are equipped with a microwave oven and a refrigerator. WIFI is complimentary. Hard to pick a favorite room, but the Wine Cellar, Bard House Loft Suite and the Ada Fisher Cottage were particularly unique and comfortable.
DINING at Inn at Leola Village
TE is the Inn's signature restaurant earning Five Stars from Forbes and Five Diamonds from AAA. It has also won a Wine Spectator Award. Chef John Calabrese has created a delightful formal Italian restaurant experience, using 100% organic vegetables, edible flowers, herbs and fruits from their own gardens, meats and poultry from local sources and specialty Italian ingredients shipped daily from Italy. Five course dinner with wine pairing is a very reasonable $199. Prix fixe menu.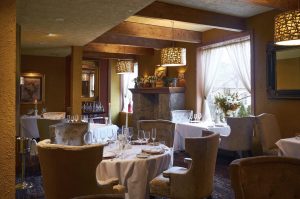 Open weekends only.
Osteria Avanti is the everyday restaurant serving all meals with an Italian flair. Eat inside the rustic dining room or outside on the patio.
THE SERVICE at Inn at Leola Village
The staff is friendly and warm. And, for a little humor guests receive "whoopee pies," traditional Amish desserts in stamped gift boxes reading: "Enjoy a little whoopee tonight."
THE SPA at Inn at Leola Village
Destinations Hair Studio and Spa is a Forbes Four Star Award winner designed in a rustic Amish
style with distressed wood and Amish designed antiques and artifact. men, don't miss the Royal Shave.
THE RATES at Inn at Leola Village
From $259 Peak Season Weekend
WHAT OTHERS SAY About Inn at Leola Village
AAA Four Diamond Award – Lodging
AAA Five Diamond Award – Dining
Forbes Five Star Award – Dining
Forbes For Star Award – Spa
Wine Spectator Award
PROMOTIONS at Inn at Leola Village
Click here for this property's promotions.