OVERVIEW of Hope & Glory
Originally an 1890's schoolhouse, the main building and cottages of Hope & Glory are set amidst lush English gardens with meandering brick pathways, whimsical sculptures and a
cascading waterfall. The air is filled with heavenly fragrances and there's even a moon garden which is in peak bloom and fragrance in the evening.
Best of all, however, is a magnificent "Garden Bath" an outdoor shower enclosed by an 8 foot fence that includes antique mirrors, a claw foot tub, and a rain forest shower. Grab a bottle of Champagne, light some candles, add some bubble bath and listen to the music of the garden…..you'll never be the same.
The main building is home to guestrooms, a dining room where a delicious breakfast and dinner is served, the living and sitting rooms and the Detention wine bar…where the chalkboard admonishes the guest to write 100 times, "I will not drink bad wine and drive" The décor is a kind of elegant shabby chic with a decided touch of whimsy. You can almost envision the decorator smiling to herself as she selected these eclectic pieces of furniture and melded them with luxury fabrics and accessories. The effect is at once elegant and comfortable.
THE ROOMS at Hope & Glory
The main inn has 7 guestrooms and behind it 6 cottages scattered among the gardens. All are decorated in different color schemes in a style that evokes thoughts of Nantucket and Martha's Vineyard. Some have fireplaces, some private patios, all have luxury linens and bedding, wonderful toiletries and fragrant towels. Our cottage, #6 had a charming sitting area downstairs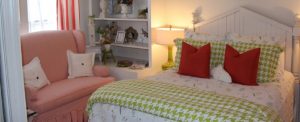 that opened onto a private patio. Upstairs, a plump King bed looked out French doors to the beautiful gardens below. Getting out of that bed in the morning was a chore….
Over in the Vineyard are the "Tents", beautifully decorated three bedroom, three bath cottages with an open floor plan, fireplaces, flat screen TV's, outdoor showers and wonderful screened in porches with views out over Carter's Creek. These are ideal for families or couples traveling together.
DINING at Hope & Glory
First, you won't want to miss the Dog & Oyster Vineyard where you can taste wines made on the property, slurp local oysters and enjoy a small palte menu.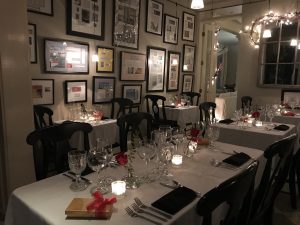 The kitchen is under the direction of Chef Meseret Crockett. Ms. Crockett, was born in Addis Ababa, Ethiopia, and was educated in French schools. She is a graduate of the Auguste Escoffier School of Culinary Arts and fluent in five language. Offering farm-to-table and boat-to-table dining, Crockett seeks out only the finest, locally sourced vegetables and seafood. The Inn offers a three course prix fixe menu for $75.
THE SERVICE at Hope & Glory
The grounds are immaculately maintained, the accommodations in pristine condition and the public rooms comfortable and inviting. Peggy and Dudley are always around and available to help, yet respect everyone's privacy and seem to know when to initiate conversation and when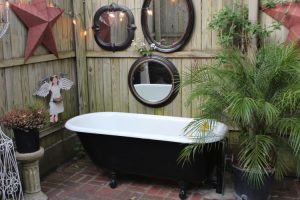 to leave people to themselves. The kitchen staff is friendly and accommodating and seem to really enjoy turning out those terrific breakfasts. This is the best kind of service, there when you need it but never suffocating or overbearing.
THE RATES at Hope & Glory
From $325 Peak Season Weekend. Breakfast included.
WHAT OTHERS SAY About Hope & Glory
Fodor's Travel Guide – names the Hope and Glory Inn a Fodor's Choice. "These places are the best of the best".
Select Registry – designates the Hope and Glory as one its "distinguished inns of North America".
Travel + Leisure has named it as one of their "30 Great Inns in the US"
American Historic Inns has ranked it one of America's" Top Ten Most Romantic Inns" to which The New York Times has responded: "The description hardly does it justice"
PROMOTIONS at Hope & Glory
Click here for this property's promotions.