OVERVIEW of Glasbern Country Inn
Just outside Allentown Pennsylvania and under 2 hours from New York and Philadelphia,
Glasbern was an old run-down farm from the 1800's when new owners purchased it in 1985. Seven of the original farm buildings have been restored and converted to luxury accommodations. The 50+ acre setting is wonderful with rolling hills and ponds and lots of rustic charm.
Today, Glasbern grows its own flowers and organic vegetables and herbs. Two greenhouses, heated by a wood furnace, provide produce year-round. Laying chickens provide fresh eggs. Glasbern sources its meats and poultry from local farms.
This is a great escape from Philadelphia or New York and the perfect "home base" if you are visiting one of the 7 colleges in the Valley.
THE ROOMS at Glasbern Country Inn
38 rooms and suites are spread over the property in the seven original farm buildings. Each is decorated with a blend of country and antique furnishings. Much of the rustic charm of the old buildings has been retained, while flat screen TV's, DVD's, refrigerators and Internet access add a modern touch. Most of the rooms have fireplaces and whirlpool tubs and many also have wonderful patios with rocking chairs overlooking the rolling hills and ponds that dot the property.
While all the rooms are nicely appointed, our Garden Cottage was exceptionally comfortable. Downstairs was a living room with a stone fireplace, mission style furnitire, a wet bar, a large flat screen TV and a desk. Upstairs was a spacious bedroom with a King bed, another stone fireplace and another large TV. A door led, off the bedroom, to a private patio with two rocking chairs overlooking a tranquil pond. The bed had some of the softest linens I've experienced in a long time and Select Comfort controls that allow you to adjust the firmness of each side of the bed. Nice…. If the Garden Cottage isn't available, we also liked The Stables and the Farm House rooms and suites.
DINING at Glasbern Country Inn
Knowing that the farm produced all its own produce and sourced other products locally, we eagerly looked forward to our dinner and were not disappointed. Seated before a fire in an elegantly rustic former barn, we enjoyed Local Charcuterie & Cheese Board: House Made Country Pate, Glasbern Raised Leberwurst, Nello's Duck Prosciutto, Valley Milk House Cheeses,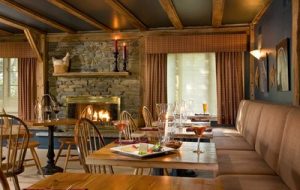 Dried Fruits in Mustard Syrup; A Free Bird Farms Free-Range Chicken Breast with Butternut Squash Risotto, Sugar Snap Peas and a sage Sage Beurre Blanc; Glasbern Raised Beef Meatloaf: Roasted Garlic Mashed Potato, Brown Sugar Glazed Carrots and House-Made BBQ Glaze; Glasbern Flourless Chocolate Cake: Kreider Farms Chocolate Ice Cream, Chocolate Sauce,
Fresh Strawberries and a Chevre Cheesecake: Fresh Strawberries in Basil Syrup, Balsamic Glaze
Breakfast the next morning brought lots of choices, but we opted for an excellent bacon, Gruyere frittata with caremelized onions. Great coffee and juices, homemade yogurt and granola.
THE SERVICE at Glasbern Country Inn
The staff was attentive, pleasant and well trained. An innkeeper was always on duty and ready to help. The service in the dining room was particularly crisp and efficient. The innkeeper/bartender/server working the night we were there was also well-versed in the wine list and recommended some excellent wine pairings with our dinner. The grounds are very well maintained and even the maintenance crews greeted us as we walked around the property.
THE RATES at Glasbern Country Inn
From $263 Peak Season Weekend. Breakfast included in the rate.
WHAT OTHERS SAY About Glasbern Country Inn
10 Great Places to Find an Offbeat B&B. USA TODAY
"Seven beautifully restored buildings on a 130-acre working farm now house guests at this luxurious Pennsylvania countryside inn. "Livestock still graze here, and the meat and vegetables from well-tended gardens offer up a delicious bounty for guests' meals…The romantic suites have seamlessly blended barn-board authenticity with rustic elegance. Most rooms include a fireplace and a hot tub.
PROMOTIONS at Glasbern Country Inn
Click here for this property's promotions.