OVERVIEW at The Clifton
You feel you are in for something special as you pass through the property gates of The Clifton and ascend the stone driveway to the stately Southern mansion perched at the top of the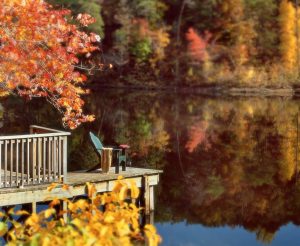 hill….and you won't be disappointed at this stunning Relais & Chateau property. The rolling lawns rise to meet the white clapboard Inn with its columned front portico, green shutters and matching rocking chairs that evoke thoughts of another era. Your car is met by a staff member who takes your luggage and escorts you to reception. The elegant entry hallway portends what is beyond and check-in in the parlor is swift and efficient.
Set on 100 acres of spectacular woodlands, the Inn is a member of the prestigious Relais & Chateaux group whose standards virtually guarantee an experience that will linger in your memory.
THE ROOMS at The Clifton
Just 18 rooms are available; each decorated in its own elegant style and spread over four different building. As they have been crafted from the original 18th century buildings, the rooms all have their own unique charm.
Our large Thomas Mann Room in the Main Building had high ceilings, soft green and tulip wallpaper, a woven beige carpet with colorful Oriental area rugs and a decorative fireplace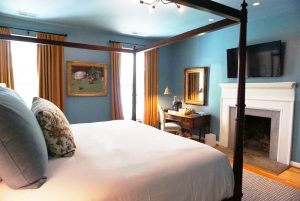 surrounded by an antique mantel. The luxurious king bed with its upholstered headboard was covered in plush Mascioni linens and overlooked a comfortable reading sofa with views to the front lawn. Clothes were stored in an antique armoire and four draw dresser. Fresh flowers and decanters of port and sherry sat on a side table. A short 5 steps down led to the delightful, crisp white bathroom with a deep claw foot tub, a wonderful separate shower (a Hall of Fame Shower, by the way) that was stocked with Molton Brown toiletries and fluffy terry robes. It is hard to pick a favorite room here as all have a particular charm. Our room was wonderful and the Shadwell Suite in the Livery Cottage has a garden and porch entrance, views over the private lake, a cozy separate sitting area and an antique claw foot tub.
A few steps from the Inn is a marvelous stone encased Infinity pool and Jacuzzi with cascading waterfalls tucked into the woods, a clay tennis court and a perfectly manicured croquet lawn. Walk on the miles of wooded trails and then enjoy a cocktail on the dock of the private lake.
DINING at The Clifton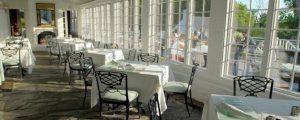 The hotel restaurant serves all meals and is reviewed in our dining section
THE SERVICE at The Clifton
The international staff is pleasant and efficient and eager to help with recommendations, directions or transportation. The restaurant is particularly special and not to be missed even if you do not stay here. We have reviewed the restaurant in our Dining section.
RATES at The Clifton
From $262 Peak Season weekend
WHAT OTHERS SAY About The Clifton
"The acres of rolling lawns and gardens with views of Monticello Mountain are part of the "pretty" setting that seduces guests of this "historic" Relais & Châteaux member 10 minutes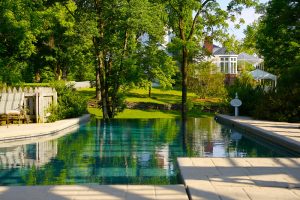 from Charlottesville, but it's really the "magnificent" food "served with precision" that sets it apart; rooms located in several buildings are "romantic" enough, but foodies joke"I'd sleep on a cot in a broom closet" just to eat here; N.B. Thomas Jefferson's daughter and son-in-law were the architects behind the inn's original 1799 mansion." ZAGAT
PROMOTIONS at The Clifton
Click here for this property's promotions.