OVERVIEW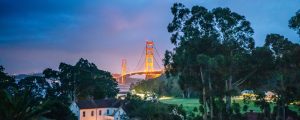 Leave it to the government to appropriate a setting so amazing, but that's what happened at Fort Baker, an army post created in 1866 for the defense of the San Francisco Bay. Located at the base of the Golden Gate Bridge, the views of the bridge and San Francisco are nothing short of spectacular. In 2002 when it was no longer needed by the military, the base was transferred to the National Park Service, who ultimately leased the property to a hospitality group. The Fort Baker Retreat Group, a project of Passport Resorts, Equity Community Builders and the Ajax Capital Group began the process of converting the 24 buildings into a luxury resort called Cavallo Point. Most of the buildings, officer's homes, were converted to luxury guestrooms. Others would house reception and private meeting rooms, still others the resort's signature restaurant, bar and cooking school. The Healing Arts Center & Spa was constructed, additional contemporary guestrooms were built and enlisted men's barracks were converted to offices and a fitness center.
THE ROOMS
There are 68 historic (officer's homes) rooms, most surrounding the 10 acre parade grounds and 74 contemporary rooms, located on a hilltop overlooking the grounds. The hilltop contemporaries have the best views of the Bridge. Historic room buildings 603 and 604 have views of both the bridge and downtown San Francisco and buildings 605-632 have the best downtown views which are amazing at night.
My contemporary room was large with a separate living room that had a big screen TV, couch, reading chair and a desk. A fireplace went through from living to bedroom. The bath had twin sinks, a large soaking tub and a separate shower with a rainforest showerhead. Outside there was a small deck with chairs. Slate floors, blond woods, and contemporary art completed the look, a kind of upscale Ikea. Everything is "organic" from the sheets and towels to the soaps and toilet paper.
While I enjoyed my room and the fantastic views it afforded, the historic rooms are more to my liking. Built in a Colonial Revival style with columns, wrap-around porches and decorative windows, they are warmer and more comfortable to me.
DINING
The lively Farley Bar (piano player and violinist the night I was there) and the excellent Murray Circle restaurant are ample reason to add Cavallo Point to your Bay area itinerary. Using local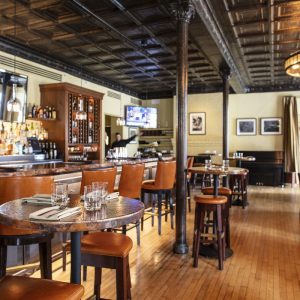 purveyors, organic farms and ranches and Bay area artisans, Chef Monique Feybesse crafts a California menu, using local purveyors, that features simple, yet bold, techniques.
A black tin ceiling, soothing earth tones, small dining rooms and cozy booths create an intimate feel in the 100 seat dining room. Add a fireplace and superb views and you have the makings for a great evening.
As wonderful as the food is and it is delicious, it is the wine list that really distinguishes Murray Circle. Representing a wide range of styles, vintages and regions, the list has two parts. The first is an amazing collection of hard to find boutique wines at prices so reasonable people will come here just for the wine when word gets out. The second part are carefully chosen wines from around the world that wine lovers will recognize from their acclaim. This is a Wine Spectator Grand Award winning list
THE SERVICE
A number of bellman await you as you arrive on the property and escort you to reception which is efficient and quick. Golf carts are used to transport you and your luggage to your room. Everyone was friendly and engaging. Bar and restaurant service was excellent, my dinner waitress was very knowledgeable about the menu and wine list. When I asked about the SF ferry schedule a manager went into the back and printed one out for me. Well trained staff who seem to really enjoy their jobs.
THE RATES: From $533 Peak Season Weekend.
WHAT OTHERS SAY…
AAA Four Diamond Dining
Hotel
"The 142-room hotel may have one of the most enviable settings around. Located on the Marin County side of the Golden Gate Bridge, near Sausalito, it lies in a waterfront, forested glen in the shadow of one of the bridge's soaring towers."
Travel Weekly
Restaurant
"Spectacular" views of San Francisco and the Golden Gate Bridge impress diners at this Sausalito Californian offering a menu of "higher-end", locally focused cuisine that's "elegant and delicious" at the Cavallo Point Resort; a "relaxed, spacious" setting in converted army officers' quarters provides "a breath of fresh air" for city dwellers, while a "wonderful" wine list and "knowledgeable" staff make for an overall "fantastic find."  ZAGAT
PROMOTIONS
Click here for this property's promotions.