OVERVIEW OF Antrim 1844
Built in 1844 by Col. Andrew Ege, an immigrant from Country Antrim, Ireland, the home and property, then comprised of several out buildings on a site of approximately 2500 acres, was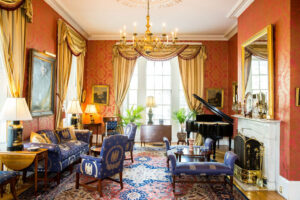 named after the county of his wife's birthplace in Ireland.  The property changed hands many times over the years and much of the original land was sold off until 1987 when the current owners, the Molletts, purchased the home and its adjacent outbuildings. Following extensive and complete renovations, the home was opened as a four bedroom inn in the fall of 1988.  Since then, the Molletts have renovated the outbuildings, expanded the number of rooms at the 24-acre site to 40 in its eleven outbuildings and have added an adjacent ballroom capable of serving 250.
Arriving at the Antrim 1844 House (as it's customarily known) in the afternoon of a dark and dismal day, not unlike the day in 1987 when the current owners, Dort and Richard Mollett, first viewed the "grand Greek Revival mansion with Federal influences," we were transported from black and white (and gray) to color, not unlike one of the opening scenes from "The Wizard of Oz," where Dorothy too opens the door of her house to find that the tornado has landed her in a color laden land of fantasy.
We were greeted not only by staff offering to assist us with our baggage but, perhaps even more importantly, by a most delightful color palate of blue, gold and rose, dependent upon which of the first floor public rooms were visited. Most charming indeed, made even more so by fourteen foot high ceilings, superior plaster work, period-style draperies and wall coverings, historic artwork and antique furnishings. We were immediately made to feel right at home.
This delightful and historic retreat, a bit off the beaten path in the rolling hills of northern Maryland, is a haven of serened their staff have found a formula for success and we can't wait to pay another visit – possibly in the late summer or early fall when the colors of the season will, no doubt, be spectacular – just as spectacular as the gracious service!
THE ROOMS at Antrim 1844
Our room, The Meade Room, is immediately to the right at the second floor landing and when we entered we were immediately delivered to another era – an era of graciousness and comfort. We noticed the extremely high ceilings with original blown glass windows reaching to the sky (and a neat feature – inside pocket shutters which can be closed at night). We turned to the right to see the beautiful four poster king-size feather bed perched high off the floor (not to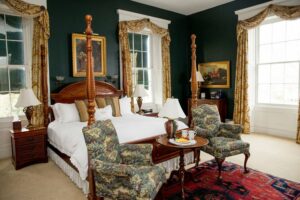 worry – a wooden step stool rests near the bed), and a working, wood-burning fireplace – quite romantic, indeed. After dinner, we were rewarded with possibly the most comfortable and relaxing night's sleep either of us has experienced!
The marble bathroom, while small, featured a steam shower with two shower heads and lovely accoutrements, including fragrant soaps, shampoo, conditioner and bath gel. As we unpacked we could just feel the stress of the trip wash away.
DINING at Antrim 1844
Following a brief afternoon rest, we headed downstairs for tea in the drawing room, a delightfully cheery room featuring a baby grand piano, comfortable seating and period antiques. Delicious bagged teas were made available on the piano and delectable pastries, cookies and tea sandwiches were also provided, all included in the daily rate.
We dressed for dinner (jackets for men are appreciated – no ties required) and decided to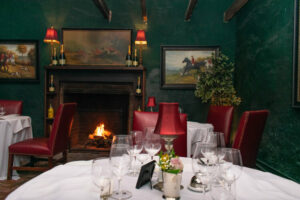 explore the Pickwick Pub about which we'd heard stellar praise. We weren't disappointed. It's just about the coziest place on the planet featuring a roaring fireplace, a lovely, well-stocked bar (specializing in Scottish single malt whiskies), tartan wall coverings and tremendous hospitality.
The dinner bell being sounded, we were graciously escorted through several of the mansion's public rooms to the Smokehouse Restaurant, aptly named, as it was, in fact, the smokehouse for the original home. As we entered the Restaurant we were greeted by stunning opposing portraits of Generals Meade and Lee, the lead protagonists in the Battle of Gettysburg, as well as paintings of many other important generals in that historic conflict.
Once seated at table, in front of yet another warm and roaring fire and beneath a portrait of a blue eyed General Stonewall Jackson, we were presented with a menu personalized for our party and signed by the Mansion's Executive Chef, Michael Gettier. Following the presentation of the Amuse Bouche (an opening chef's treat) we were greeted by the Maitre d'hotel, Siavash Ayrom, a gracious gentlemen who was instrumental in advising us of appropriate wine selections.
At Mr. Ayrom's recommendation, we selected a glass of Picpoul de Pinet, Coteaux de Languedoc, 2007, a delightful French varietal white wine full of acidic fruits including pineapple,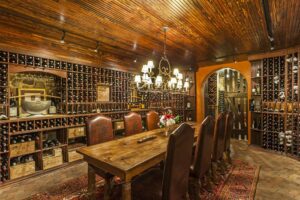 pear and grapefruit. It was the perfect choice for our country baked oysters and artichoke with bacon & Parmesan cream starters. For our entrée, Mr. Ayrom suggested Silkwood, Red Duet (NV) a delightful 50/50 combination of cabernet sauvignon and syrah from Stanislaus County, in Modesto, California. It was truly delicious and a solid partner with the venison and veal entrees. Dinner service ended with a delectable and outsized Panache of Chef's desserts. No calorie counting here!
Throughout dinner, patrons in the Smokehouse were entertained at the piano by Calvin Jackson, a Bobby Short-style regular at Antrim 1844 House. He played and sang both Broadway and Hollywood show tunes as well as songs ranging from Cole Porter to Andrew Lloyd Webber. He was so good that most of the tables, and one in particular, took great joy in joining in the singing, so much so that at the end of the evening most everyone was in on the act!
The next morning we were delighted to be awakened by the smell of freshly brewed coffee, fresh baked muffins and the morning paper served by "Jeeves," the wooden butler table just outside our door. A complimentary continental breakfast is "de rigueur" at the Antrim 1844 House and it's a perfect start to the day. We then dressed and went downstairs for a full house served breakfast which included a juice of choice, and choices of a full hot breakfast (eggs, sausage, bacon, etc), fresh fruit bowl, granola with milk or hot oatmeal.
On our second night, we met Ryan, Antrim's wine steward, who invited us to tour the Mansion's newly renovated and quite extensive wine cellar. Home to some 17,000 bottles of fine wine, the wine cellar can be booked for private parties up to 10. It was here, in consultation with Ryan,
that we decided upon the evening's wine selections: Bug Juice (really, that's the name), a Moscoto d'asti, from Italy's Piedmont region, perfect for the starter course of Brioche Toast with Foie Gras, and then the piece de resistance, a 1998 Chateau Ducru Beaucaillou, a beauty of a Bordeaux from Saint Julien! It was paired perfectly with Chef Gettier's delicious Bistro Steak with Blue 'Mac.' While we splurged a bit on the Bordeaux, both wines were priced reasonably.
THE SERVICE at Antrim 1844
Check-in at the front desk/gift shop was a breeze and our greeter then escorted us up the stately spiral staircase to our room on the second floor. As our greeter explained the room's amenities, we noticed and opened a welcoming letter from the general manager accompanied by a plate of fresh fruit and a half-bottle of chilled French champagne – a most delightful welcoming gift.
As our greeter departed, we were advised that afternoon tea would be served in the drawing room from 4:00 PM to 5:30 PM and complimentary wine and hors d'oeuvres would be served, also in the drawing room, beginning at 6:30 PM, in advance of our 7:00 PM dinner reservation in
the adjacent Smokehouse Restaurant.
When we returned to our room after the first evening's meal, we were delightfully surprised to see our evening reward, delicious chocolates surrounded by yellow rose petals formed in the shape of a large heart! Talk about heart-warming! Returning on the second night, we again found those delicious chocolates together with a turned-down bed and a single pink rose. Perfect!
We were so glad to have had the chance to discover and enjoy such a wonderful service oriented facility. Thinking back at our stay during our 3.5 return trip, we couldn't remember anywhere we'd been that featured staff who were so conscious of and concerned for the well being of their guests. Everyone was on the same page, a tribute to the owners, the Mollets, and their management team. We can't wait to return.
THE RATES at Antrim 1844
Prime season weekend rates from $339
WHAT OTHERS SAY About Antrim 1844
Civil War buffs bivouac at this "charming base for visiting Gettysburg" (15 minutes away), a former plantation-turned B&B; "gorgeous rooms" have antiques, wood burning or gas fireplaces, feather beds, and double jacuzzis (but no phones), and sophisticated touches include afternoon tea in the drawing room, croquet on the lawn and "devine" gourmet dinners; the "exceptional service" and "romantic ambiance" (along with a policy that doesn't allow children under 12) inspire some guest to "propose". ZAGAT
PROMOTIONS at Antrim 1844
Click here for this property's promotions.